Lemurian Stargate Rainbow Bridge Gathering of the Tribe
February 16 - 22, 2019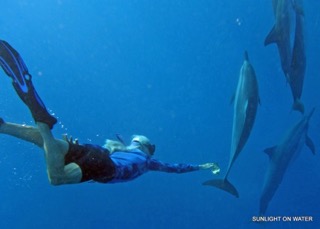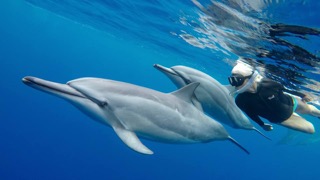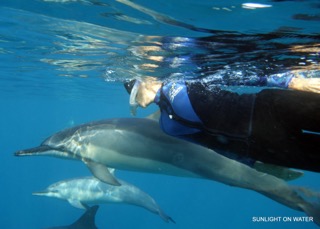 Imagine the excitement that the dolphins will provide as you enter our beautiful Hawaiian waters with their squeaking playful sounds calling you to come and play the leaf game with them. Experience them spiraling and spinning all around you, creating a vortex that begins to change your frequencies. We can hardly control our laughter as we play with them, sometimes even causing a mask to leak, and it doesn't matter, for you and the dolphins are in endless BLISS!
If this wasn't enough, you may decide to slow down and begin to float in the sacred waters, feeling such bliss and serenity with these exqusite vibrations of the highest frequencies. Our Cetacean Akashic Record Keepers emit sonic tones of love, peace, harmony and compassion in a bubble of Light and Love, raising our vibrational frequencies to the highest level that Cosmic Law will allow!
As you immerse yourselves in this blue green Higher Heart Light you realize you have touched the Heart of the Divine with your Lemurian Higher Heart, becoming "One," Lightbody to Lightbody with the Whales!! You feel like you are dreaming, then realize you are Here and Now experiencing the most incredible Divine Experience within your total Beingness!
Also on this retreat experience, we have a dolphin snorkel boat and a whale watch trip. We will explore sacred sights including waterfalls, Heiaus, botanical gardens and the sacred City of Refuge, where we will have our "Forgiveness Ceremony" - letting go of All the Old thought forms and emotions attached to them.




As we watch the sun begin to set, we will look for a mystical "green flash", as the sun lowers from the horizon dissolving into the ocean, while the sky lights up with Cosmic Radiant colors of magenta, purple, blues and golden rays, bringing in the New Earth and a New Reality for our Highest Potentials and Possibilities that we might embody.
These frequencies are Now Available to US!
Please join me in co-creating the New Lemurian Stargate Rainbow Bridge Retreat with the whales, dolphins, fairies and angels and many more Beings of Light and Love~~~
Labyrinth
When: February 16th to 22nd
Where: Kona Hawaii
Price: $888 (deposit $333; balance due Jan. 15th 2019)